Prof. Henry Kwok & his research group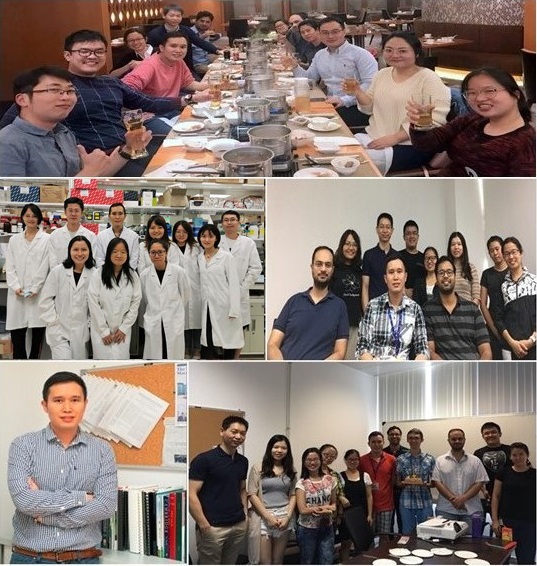 Welcome
On behalf of the Natural Drug Discovery and Development group, I would like to welcome you to our website. Our goals are to identify novel therapeutic targets and prognostic biomarkers for the development of innovative treatment agents against diseases such as cancer, rheumatoid arthritis and diabetes.
Background
The Natural Drug Discovery and Development group was established in March 2014.It is based in the Faculty of Health Sciences at the University of Macau, which is located in the University's brand new campus on Hengqin Island. Its members, hailing from Asia and Europe, possess experience in a variety of areas, such as Biochemistry, Chinese Medicine, Pharmaceutical Biotechnology, Stem Cell Biology and Molecular Biology.
Current Research
We identify and develop novel monoclonal antibodies, venom-based peptides, and plant-derived molecules as prototype drugs for anti-cancer and anti-inflammatory therapies. In addition, we also expand scientific knowledge and research in the areas of existing and novel cancer biomarkers such as:
1) matricellular protein -- OPN;
2) metalloproteinase -- ADAM17 & ADAMTS5;
3) DNA replication licensing factor -- MCM proteins;
4) small GTP binding protein -- RAN;
5) immunotherapy marker (e.g. PD-1/PD-L1)
in order to identify and validate their prognostic and therapeutic values according to the roles in hallmarks of cancer.
For more details, please kindly refer to Prof. Kwok's Faculty website:
https://www.fhs.um.edu.mo/en/staff/henry-hang-fai-kwok/
Recruitment
We are currently looking for motivated and experienced researchers to join our group, from PhD students to the postdoctoral level. For more details, please don't hesitate to contact us!
(1) Postdoctoral Research Fellow/Associate position:
https://fhs.um.edu.mo/en/about-fhs/opportunities-in-fhs/job-vacancies/
(2) PhD position:
https://grs.um.edu.mo/index.php/prospective-students/phd-funding/um-macao-phd-scholarship/ (Scholarship)
https://grs.um.edu.mo/index.php/prospective-students/phd-funding/phd-assistantship/ (Assistantship)